As a parent, I feel it's an essential part of my job to teach my kids how to help out around the house and learn how to become a productive member of the household. They all attended Montessori Preschool, which I feel really jumpstarted them to recognize most "chores" as "practical life skills". Whichever term you choose to use, I've found that most children enjoy helping out with these daily tasks and it's a great way to teach them responsibility, independence, and self-sufficiency.
Although my kids have been great at wanting to be involved in household duties, as they've gotten older it's been more of a challenge getting them motivated for regular chores — and nearly impossible to get them enthusiastic about completing them on a daily basis.
We've tried a good handful of ways to motivate our kids, but the most successful has definitely been the regular use of a chore chart. It not only provides motivation, but has also begun helping us teach them financial responsibility. One key to being successful has been getting the chores organized in writing – then there's no question about who's responsible for what on a given day.
After quite a few trial runs and alterations, below is the Magnetic Chore Chart we now use to keep us organized and help our family life run just a bit smoother.
With the understanding that as the children grow, our household expectations may change and their chores will be reevaluated and tailored to their age level. I designed this chart so it can grow with us – easily being able to change and swap out chores as needed. In the future, perhaps adjust allowance amounts as well.
One of the most important things we are trying to teach them right now is that money comes from work, so rather than freely receiving an allowance, our kids earn their money by completing tasks. After they complete a chore, they simply move the corresponding Magnetic Pin to the jar with their name. On Sundays – payday – the kids trade in their pins for the cash they've earned.
They each get ONE daily task and ONE weekly task. Having three children, that has been the most realistic expectation for us, as well as not overwhelming to track (for them and myself). Since they also sometimes ask to help with additional chores, I listed those in the 'Bonus' section. These are not expected, but an extra way for them to earn cash.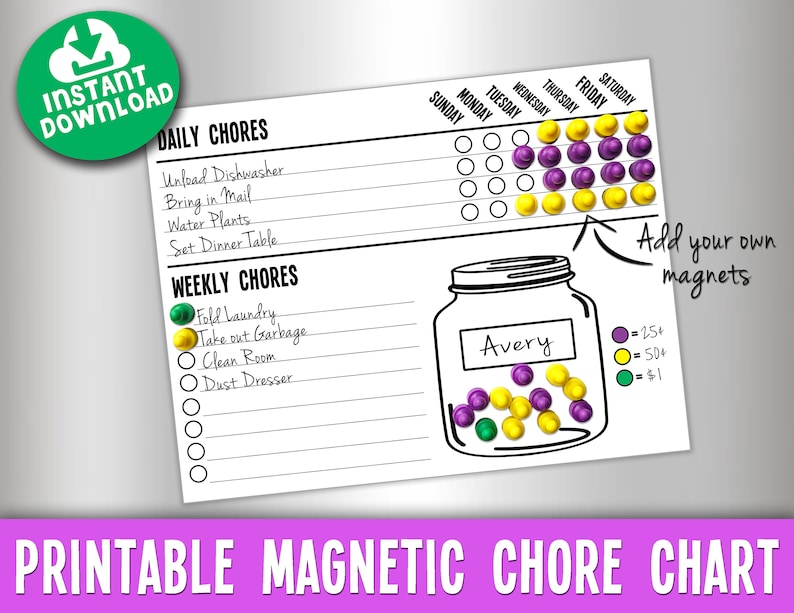 I have to say, it has been nice to pass some responsibility over to my kids — waking up to an empty dishwasher has been glorious! Most importantly, I love seeing them learn new practical life skills and confidently contribute to the household.
"The greatest gifts you can give your children are the roots of responsibility and the wings of independence."  – Denis Waitley